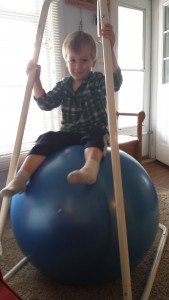 On a bright and sunny Sunday afternoon, February 1st, I started early labor.  I felt so excited that Rowan was on his way, and I felt fairly ready.  I began breathing through contractions using the hypnobirthing method I had been studying.  Forest helped by bouncing on the birthing ball under the baby hammock frame.  He also helped by getting into the tub with me.  The warm water felt good, and Forest said he wanted to "have contractions with me."  Forest's sweetness and caring helped me feel like the whole family was doing this together.
Labor progressed to feel very intense later in the evening with contractions pretty close together, so I thought Rowan would come that night.  Aunt Cheryl picked Forest up to stay with her and her son Zane, and Donald and I packed for the hospital.  I was disappointed and shocked to learn that I was only dilated to 1 cm. after all of those contractions.  Instead of driving 45 minutes to get back home, we decided to stay at a hotel nearby.
Early labor continued throughout Sunday night and all day Monday.  Contractions were intense enough and close together enough, usually 7 to 20 minutes apart, that I couldn't sleep.  This pattern continued throughout Monday, and I danced, bounced on a birthing ball, and took warm baths.  My friend, Karen, brought a bunch of positive energy and also a nice bath pillow to help me relax even better.  Our Doula visited at the hotel to provide some coaching and encouragement.  By Monday night it seemed that the contractions  were again closer together and more intense, so we returned to the hospital to find that I was only dilated to 3 cm.  I couldn't believe it!  Back we went to the hotel armed with an antihistamine they gave me to help me sleep a bit between contractions.  My contractions lengthened out and de-intensified enough for me to sleep some that night.  When I woke up, labor started up again, still irregular all day.  We decided to go home to Shawnee for awhile.  On Tuesday evening, I could finally distinguish that labor was becoming more regular and intense.
Donald was an amazing birth partner.  I really fell in love with him all over again–really more so than ever before.  He helped by massaging my back, reminding me to "open" and to be "soft" and to breathe.   I told Donald I thought it was time to head back to the hospital after some particularly intense and regular contractions.  On our way in, I saw a nurse that had watched me come in only to be turned away the past two evenings.  "Third time's a charm, I bet," I said confidently.  She wished me luck.  They found me dilated to 7 cm this time.  I was actually going to have a baby at last!  That nurse cheered for us when she saw that we would finally be admitted.
As soon as we got into the birth suite, I asked to get into the tub for some comforting warm water.  The nurses got a monitor strapped to my belly to make sure Rowan was doing okay.  Our Doula was heating up extra water in a tea kettle she had brought to make the water just a bit warmer since she had long experience with OU Children's Hospital to know that extra help was needed to achieve a comfortable temperature.
After an hour or so, they said Rowan's heart rate was going down, so they had to get me out of the tub.  They gave me oxygen, told me to continue breathing deeply, and helped me into different positions on the bed.  Finally my water broke when I was about at 9 cm.  There was some meconium in the amniotic fluid, so the midwife called a pediatric team.  She explained that the team would need to immediately assist the baby after birth to make sure his breathing was okay.
My main goal was to have a successful VBAC, so I diverted from my birth plan and asked for an epidural when I was dilated to 9 cm.  By that time, I was pretty tired of contractions by then, and I thought this would be my best bet for getting through the pushing and having a non-surgical birth.
The epidural didn't totally "take" since I got it so late, but it took care of enough pain that I was easily able to push when I was fully dilated.  The epidural did slow things down a bit, and my birth team had to wait around.  The doula, midwife and nurses coached me through pushing, I think because they wanted to hurry up and get Rowan out.
I had asked for a mirror, and they set up a large mirror on a stand at the end of the bed.  It was so beautiful to watch my baby's head crowning slowly over several contractions and finally emerging.  I felt intense joy and excitement seeing him arrive.  Rowan Glen Winslow was born Wednesday morning, February 4, 2015, at 8:13 a.m.
It was very difficult watching them take Rowan over to the pediatric team and away from me, right after he was born.  I wanted to hold him so badly.  The one non-negotiable thing we had said we wanted on the birth plan was immediate skin-to-skin contact with me and delayed cord clamping.  We didn't get those things because of the meconium fears.  After working on Rowan awhile in the room, they let me hold him briefly, then whisked him off to NICU.
I wasn't as worried as I might have imagined I would be in this situation; I just had this sense that he would be okay.  I was very eager for them to release me from recovery, though, so I could go visit him.  I talked them into letting me breastfeed him as soon as possible which they let me do even though he was attached to many cords and tubes.  It was very strange, and scary, yet I still knew that he would be fine, so I was pretty calm.
He spent one night in NICU.  I kept going in to feed him, and he kept improving.  He was released from NICU the next afternoon, and I got to spend one night in the hospital room with him.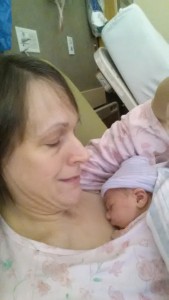 He was such a calm baby from the very beginning.
We spent all day the next day in the hospital, then they released both of us on Friday evening, February 6th.
Although I had 60 hours of labor, I was so grateful to remain pretty calm throughout the labor and birth.  I had worked a lot with affirmations in pregnancy and collected inspiring pictures for focus.  I had a wonderfully supportive husband, a good midwife and nurses, and the most amazing doula.   Although I did not have full benefit of a hypnobirthing class that I'm sure would have brought more relief from intensity and pressure, I had the most important benefit to me which was freedom from anxiety throughout labor and delivery. The nurses were saying they were amazed by my calm and control.  I have a tendency to anxiety, but went through the whole experience feeling positive and joyful.