I had a library conference in Denver in early April, so the family came with me.  We took one week of vacation after the conference to explore.
Forest truly enjoyed riding the escalators and elevators at the Denver Conference Center when they visited.  My friend from Snowbird 2000 Leadership Institute took this picture of us at the conference center. Daddy and the boys visited the Art Museum and the Children's Museum while I went to the conference sessions.  Daddy also did a lot of chasing boys around the hotel halls, elevators, and escalators.  Forest said that he likes Denver very much.  When I asked him what he liked best about Denver, he said he liked the hotel and all of the buildings with elevators and escalators.
I wish all restaurants had separate rooms with great toys to keep kids happy.  We ate breakfast at this restaurant, and it was great to be able to let the kids run around after they finished eating–something they always want to do anyway.
We visited Rocky Mountains National Park, hoping that we could drive through to the western side of the park.  But the road wasn't yet open for the spring, I guess because there was still snow on the mountain passes.
Forest probably climbed up on a giant boulder overlooking a sheer dropoff about 8 – 10 times.  My poor husband had to follow him up there every time.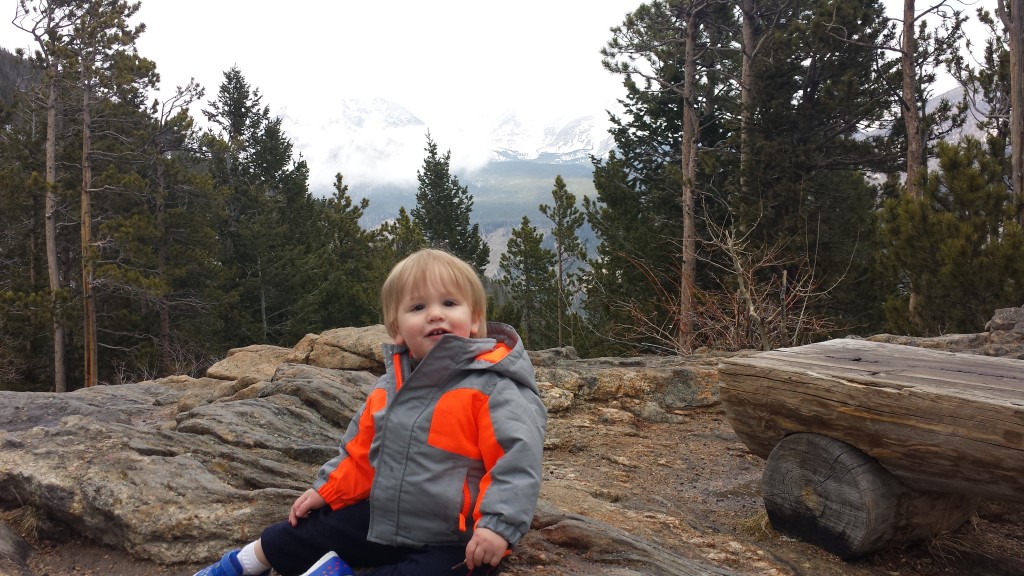 Rowan in the mountains
We were able to drive around and explore Rocky Mountain National Park for several hours, but then had to head back through Estes Park.
We visited Uncle Johnny Dale and some of my cousins in Cedaredge, CO.  (Sorry, no pictures here yet. )
We visited a volcano in New Mexico called Capelin Volcano.  It was very cold and snowing that morning with a fair amount of snow on the ground, especially in higher elevations.  Forest and Donald hiked up on the ridge of the volcano, then Forest came running down, very fast, on the slick, steep path.  Rowan and I stayed down in the crater area and crunched around in the snow and nursed.